Genre: Multiplayer physics
Developer: SplitSide Games
Publisher: Daedalic entertainment
Release Date: August 23rd, 2021
Edited by AlexKnight2005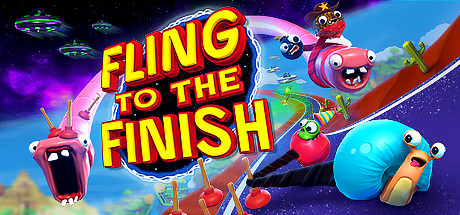 It's time to get wild. Gather up your friends, and prepare for the ride of your life. Are you prepared? Well then, On your mark, get set, Fling to the Finish!
A game that is not just about racing: it's also about tactics, cooperation, and wits. This time it's not a single racer but two tied together with an elastic rope. So what you need is proper communication with your co-racer. There is also the opportunity to play in a single-player, but in that case, you should prepare for a real challenge because controlling two separate racers at once is not easy.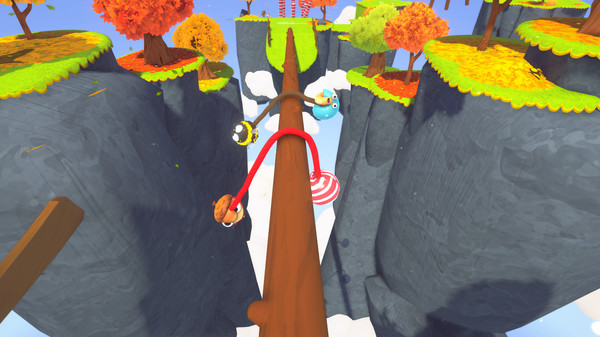 The visual style of Fling to the Finish is related to the silliness of the game itself. Very colorful and funny. Whether you race in ancient Egypt, Las Vegas, or a haunted graveyard, the world is built so that you don't get bored and is even filled with little jokes. And since you're probably going to spend a lot of time going back to checkpoints, it's nice that your surroundings are not still and plain.
Another thing that enhances the fun and silly playthroughs is the sound effects and the soundtrack. You can expect a real treat with the almost cartoon-like sounds that perfectly fit the graphics and playthrough. The soundtrack is something you might be humming to yourself hours after you finish your racing. The game is also prepared for the streamers, as you can turn on the Streamer mode, which will make the gameplay copyright-free music.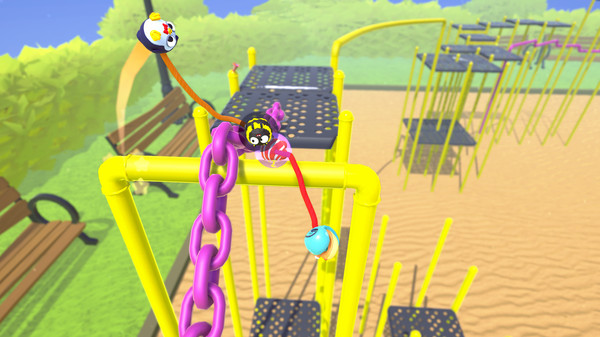 That is because it's a party-like game; it's also a great way to have fun with your friends or viewers. All you need to do is set up a game and give the room code to whomever you want to join you. Or, if you prefer it that way, the game also includes the option to play via Steam Remote play, so you can have fun with your friends even if they don't own the game. For this, the devs even added a link to the game's discord server in the main menu, where you can easily look for other players. But the game also includes an offline mode which means you can set up game parties even if your connection is unavailable.
The game includes two different modes. The first one is a campaign mode made for 1 to 2 players. Here you will be challenged with different tasks to finish while racing. Every map has several options. There is a Duck Hunt, where you need to find hidden ducks. A bomb run forces you to collect time boosters to avoid an explosion of the bomb that is connected to you. The UFO race is a simple race against an AI-controlled flying saucer and a Coin frenzy where you have to collect enough coins on your way through the course. Finishing those levels not only unlocks new maps, but you also get to unlock new racers and their skins.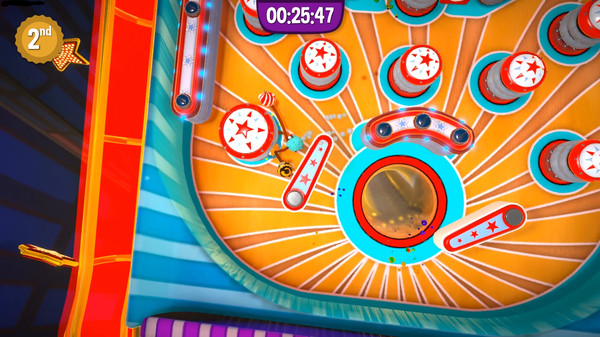 The second one is a race that allows you to gather up to eight people in four teams. This mode is pretty obvious, but don't expect just a straight course where the fastest roller wins. You will still have to deal with many obstacles and "puzzles" that you need to complete, whether it's a switch that you need to turn on with the rope that ties you together, buttons you have to press to open a door, or a climbing wall.
Yes, I did say climbing. Every player has the skill to stick to the wall. And if you do that and your friend stretches the rope between you, you get to fling them up and allow them to stick even higher up. The "Stick and fling" tactic doesn't just help you climb up the walls to the Finish but also allows you to save yourselves from falling off the course and thus prevent respawning at your last checkpoint.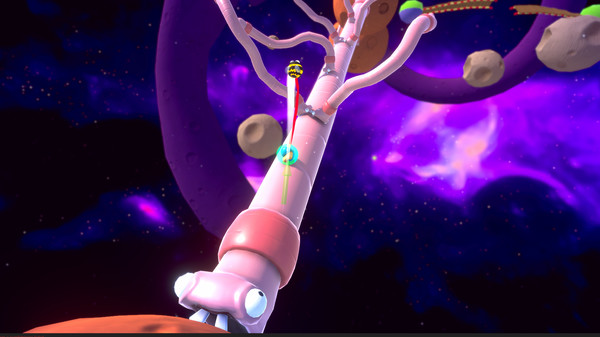 The sticking skill is one of only two buttons you'll need, except the movement controls, with the jump button being the second. Because these simple controls allow you to even share one controller between two players, it means owning three controllers, and a keyboard with a mouse can fit up to eight players on one PC. And that is why you can enjoy the game with even more of your friends. The only thing that could be tweaked up a little is the sensitivity of the controls, although it's something that you can get used to after a while. If you play local multiplayer, every team gets its share. The game gets a split-screen if you play as more than just one team. A two-player team only gets a single screen. Of course, that shouldn't be a problem since you are tied up together, but thanks to the fact that the camera tries to focus on both players, the camera can get a little bit shaky sometimes, which can get you confused.
All in all, I surely recommend this game. Whether as just a quick time filler or a big party game. I will surely be spending much more time with it.