Genre: Economic simulation
Developer: DRAGO Entertainment
Publisher: Movie Games S.A., HeartBeat Games
Release Date: September 15th, 2021
Edited by AlexKnight2005
Gas Station Simulator puts the player in a rundown gas station on the famous route 66 in the middle of the desert. The single-player first-person feel of the game feels more akin to tycoon games than simulator games, as Gas Station Simulator has more depth than most simulator games. With a story to go along with building up your station and a wide range of ways to make money than just pumping gas, The player goes at their own pace as they complete the quest like milestones.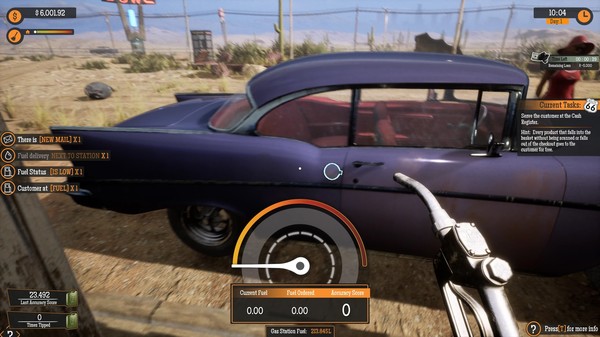 The gameplay is straightforward at the start as you are in a rundown gas station, and you now own it. At first, you can only pump gas but quickly expand it to make it a clean and nice gas station that can even repair cars. The junkyard that is in the back of your gas station becomes a warehouse and more to stock supplies for your station and garage. Not only will you have to service gas, cash-out customers from your shop, and repair the cars, but you must stock all the supplies and manage the resources. Prices can go up and down to reward the player for stocking smart, and by doing the tasks correctly and fully, you will get tips from the customers. Maintaining cleanliness and performing your jobs well will make your store more popular with the locals to get more customers. As the game progresses, you can effectively hold and store more products and hire others to help with the station. Times you can feel overwhelmed with side tasks that involve cleaning, painting, and double-checking your stock, but the game allows you to shut the station down at any time to have a breather. The wide range of gameplay does make me wish there was a co-op side to it. The gameplay itself goes in further depth as you have to meet the delivery trucks to unload product and fuel. Other examples are tossing garbage in the dumpsters and calling for pick-ups, using a bulldozer to clear sand from areas like your parking lot to build on, and dealing with events like a kid spraying graffiti on your building. The depth Gas Station Simulator brings is amazing compared to others. Suppose things get more tough for the player or want to risk turning more profit. You can take a loan from your uncle.
The story in Gas Station Simulator revolves around you starting this station and your uncle helping you. Without spoiling much, there is a core story surrounding your loan and those in the surrounding area. The story fits perfectly and is unforced into the style of the game. It fits perfectly in the lone desert vibe like it's a modern wild west with your remote station surrounded by the desert and the road in front. The visuals and feel fit well with the environment, and the ambient music works well. As you progress in the story and get popular with your customers, you start becoming a landmark on the famous route 66.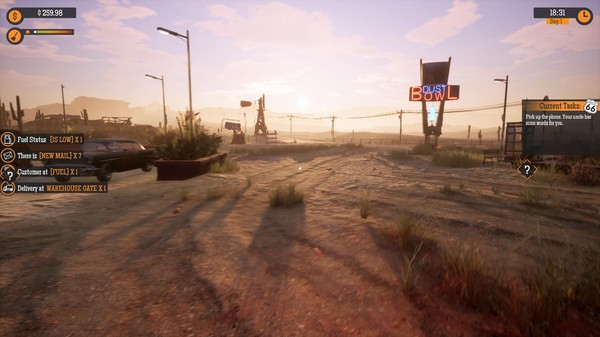 With so much going on with many physics-based items, there are some technical issues. The game lags up from time to time. Picking up items can bug out the locations. When holding something, it actually appears as if it's "under" the floor till you drop it again. There are no loading screens but the long starting one. Sometimes the lighting inside the station can make spots to clean harder to see. Accidentally clicking to paint an area will force you to finish it; you can get out of a misclick. The bulldozer can be stuck easily to the point you have to reset it. There are many other examples to help the quality of life to offset some of the annoyance. The trash bag will highlight garbage, you are given details when you buy items if they are below or overpriced at the time with detailed records of past prices, and the UI will show you when customers or deliveries are waiting in your station. Altogether I feel it is slightly unpolished with a mixed bag of great features and nuisances.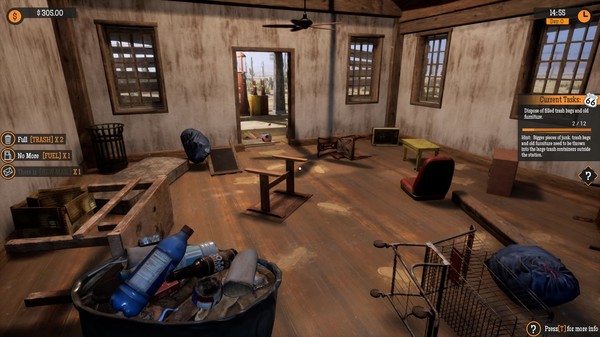 Overall, if you enjoy simulation or tycoon games, this one is a good one to grab. The depth and activities make sure you will not be ideal or doing the same task repeatedly. You feel as if you have grown from your efforts. When it comes to cleaning and painting, you visually feel the change as your customers do from their happiness coming there. The progression through the checkpoint-style quests helps the player move at their own pace while growing their gas station. They have a couple of DLC that can add more to the station, but the game does feel full already with the options of the base game. This was a happy surprise to play and one I'm happy to play more of.
Pros:
Amazing Tycoon Game and Great Sim Game
Great Vibe and Setting
Lots of Stuff to Do
Cons:
Technical Bugs Are Varied and Noticeable.
FoxieEXE gives Gas Station Simulator for PC a Drastik Measure of 8.4 out of 10.0 (84)