Latest posts by TDM News Room
(see all)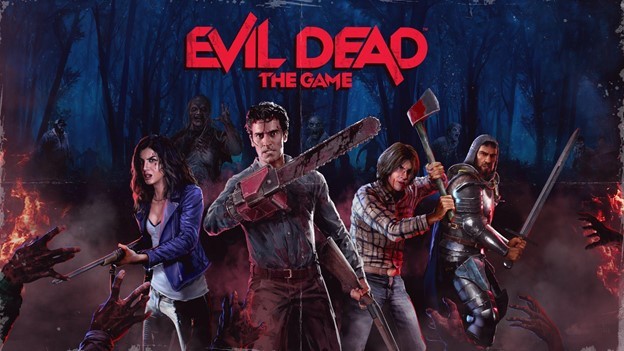 Wreak Havoc as the Kandarian Demon in Evil Dead: The Game's Newest Trailer
Possess your enemies and command the undead in gruesome, over-the-top co-op multiplayer action on consoles and PC on May 13
FORT LAUDERDALE, Fla. — March 9, 2022 — Saber Interactive and Boss Team Games have released a new trailer narrated by Bruce Campbell for the co-op PvP and PvE multiplayer action title Evil Dead: The Game, this time revealing the unique gameplay behind the most horrifying force of evil ever to torment the living: the vile Kandarian Demon.
Kandarian Demon Gameplay Trailer: https://youtu.be/6qDfNX2dKfg
With terrifying possession powers and an army of darkness at its command, the Kandarian Demon is a powerhouse to be feared as it flies through the woods chasing survivors. Hunt down enemy players yourself or command ravenous Deadites to attack. Take control of your Deadite minions, environmental objects (including those infamous trees!), and even the survivors themselves to frighten and vanquish any mortal who stands in your way. Choose the physical form of the Kandarian Demon that fits your playstyle, each with different enemy types and bosses including Henrietta, Eligos, and Evil Ash.
Inspired by the iconic horror, humor and action of the "Evil Dead" franchise, Evil Dead: The Game brings the series' biggest characters together in a pulse-pounding battle with the forces of darkness. Work as a team of four survivors, including Ash Williams, Kelly Maxwell, Pablo Simon Bolivar, Scotty, Lord Arthur and more, to kick Deadite butt and banish the vile Kandarian Demon. Or become the Demon yourself, using your powers of possession to stop the good guys dead and swallow their souls! Battle with more than 25 hard-hitting weapons and a variety of skill trees in multiplayer and bonus single-player missions to survive the night.
Evil Dead: The Game is available to pre-order now for release on May 13, 2022, on PC via the Epic Games Store, PlayStation®5, Xbox Series X|S, PlayStation®4, and Xbox One. Pre-ordering any version of the game grants two bonus Ash outfits: the Ash Williams S-Mart Employee Outfit and Ash Williams Gallant Knight Outfit. The game's Deluxe Edition includes the Season Pass 1, featuring four upcoming DLC packs. Evil Dead: The Game has also been announced for future release on Nintendo Switch.
Evil Dead: The Game is officially licensed by Boss Team Games from Renaissance Pictures, STUDIOCANAL, leading entertainment company Metro Goldwyn Mayer (MGM), and global content leader Lionsgate (NYSE: LGF.A, LGF.B) to develop the first multi-platform console and PC game based on "The Evil Dead," "Evil Dead II: Dead by Dawn," and "Army of Darkness" films and the STARZ "Ash vs Evil Dead" television series. The game is being developed and published by Saber Interactive and Boss Team Games.
For more information, visit www.EvilDeadtheGame.com, and follow the action on Facebook at www.facebook.com/EvilDeadTheGame, Twitter @EvilDeadTheGame and Instagram @EvilDeadTheGame.
About Saber Interactive
An Embracer Group company headquartered in the U.S., Saber Interactive is a worldwide publisher and developer consisting of 21 studios in the Americas and Europe. Creating games for all major platforms based on original and licensed IPs, Saber's titles include Warhammer 40,000: Space Marine 2, World War Z, SnowRunner, Evil Dead: The Game and A Quiet Place. Founded in 2001, Saber is known for two decades of development partnerships with AAA publishers, producing The Witcher 3: Wild Hunt for Nintendo Switch and next-gen consoles, Halo: The Master Chief Collection, Crysis Remastered, and many others.
About Boss Team Games
Boss Team Games, LLC focuses on console, PC, and mobile games based on iconic characters and franchises. In addition to Evil Dead: The Game, the company recently released the hit mobile game Cobra Kai: Card Fighter and is working on other titles adapted from popular film and television franchises. Follow Boss Team Games on Twitter, Facebook, and Instagram @bossteamgames.
About Renaissance Pictures
Renaissance Pictures was formed in 1979 by Sam Raimi, Robert Tapert and Bruce Campbell.
About Creative Licensing
Located in Los Angeles, Calif., Creative Licensing is a full-service independent merchandise licensing agency that specializes in long-term brand development. Founded in 1982, Creative Licensing currently represents a large catalogue of classic films and properties, including STUDIOCANAL for this project.
http://www.creativelicensingcorporation.com
About STUDIOCANAL (a CANAL+ Company)
STUDIOCANAL, a 100% affiliate of CANAL+ Group held by Vivendi, is Europe's leader in production, distribution and international sales of feature films and series, operating in all four major European markets – France, United Kingdom, Germany, and Spain – as well as in Australia and New Zealand.  It finances and produces around 30 films per year, distributes around 50 films per year and owns one of the largest film libraries in the world, boasting nearly 6,500 titles from 60 countries. STUDIOCANAL also produces more than 200 hours of TV series each year at an international level, either directly or through its award-winning network of European production companies (TANDEM Productions, RED Production Company, URBAN MYTH FILMS, BAMBÚ PRODUCCIONES, STUDIOCANAL ORIGINAL, SUNNYMARCH TV, SAM Productions).
About Metro Goldwyn Mayer
Metro Goldwyn Mayer is a leading entertainment company focused on the production and global distribution of film and television content across all platforms. The company owns one of the world's deepest libraries of premium film and television content. In addition, MGM has investments in numerous television channels. For more information, visit www.mgm.com.
About Lionsgate
Lionsgate (NYSE: LGF.A, LGF.B) encompasses world-class motion picture and television studio operations aligned with the STARZ premium global subscription platform to bring a unique and varied portfolio of entertainment to consumers around the world.  The Company's film, television, subscription and location-based entertainment businesses are backed by a 17,000-title library and a valuable collection of iconic film and television franchises. A digital age company driven by its entrepreneurial culture and commitment to innovation, the Lionsgate brand is synonymous with bold, original, relatable entertainment for audiences worldwide.
THE EVIL DEAD™ and its related characters are copyrighted trademarks of Renaissance Pictures, LTD. exclusively licensed to Diversion3 Entertainment, LLC. EVIL DEAD is a registered service mark of Renaissance Pictures LTD. All rights reserved. EVIL DEAD 2: DEAD BY DAWN™ is a trademark of STUDIOCANAL S.A.S. All Rights Reserved. © 2022 STUDIOCANAL S.A.S. All Rights Reserved. ARMY OF DARKNESS © 1993 Orion Pictures Corporation. ARMY OF DARKNESS and its related trademarks, logos, characters, and other materials ™ Orion Pictures Corporation & © 1993-2022 Metro-Goldwyn-Mayer Studios Inc. All Rights Reserved. ASH VS EVIL DEAD © 2022 STARZ Entertainment, LLC. All Rights Reserved. EVIL DEAD: THE GAME programming and content is © 2022 Evil Dead GameCo, LLC, assigned under license to Boss Team Games, LLC Additional Game Design ™ and © Diversion3 Entertainment, LLC. All Rights Reserved.