Latest posts by GlitchedVision
(see all)
Genre: Horror online Co-op multiplayer
Developer: Hologryph, Eerie Guest Studios
Publisher: tinyBuild
Release Date: Oct 24th, 2019
Edited by AlexKnight2005
When Dynamic Pixels released their passion project Hello Neighbor in December of 2017, they had no idea that it would become a massively popular hit. It drew attention from some massive content creators, boosting its popularity throughout 2018, and even spun off a new multiplayer experience. This new title, Secret Neighbor, grew in popularity during its early access period and released to a warm reception. The question is, how does it stack up?
In Secret Neighbor, you play the role of a kid who looks like 5 from his/her peers, is curious about what the creepy neighbor is up to. There's a problem though, that creepy neighbor found out and disguised themselves as one of your companions. When you start a game, you're randomly assigned a role. Either one of the 4 kids, or the neighbor. To keep things interesting, there are also 2 "neighbor" variants, making each game different. If you're the neighbor, you must stop the kids from finding evidence of the secrets you've been keeping. On the other side of the coin, as a kid, you must work with your teammates to discover the secret and make it out of your neighbor's house safely.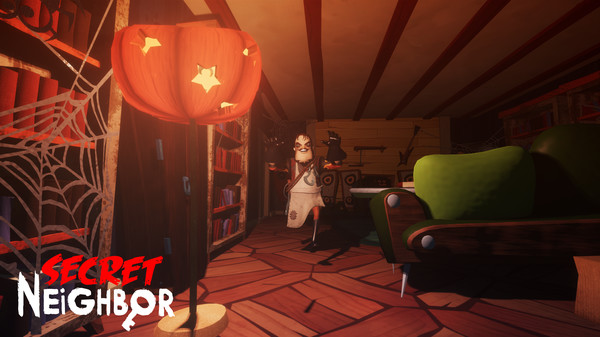 The neighbor is more powerful than the kids, but they can stun them for a short time by throwing random items at them. There are 6 classes for the kids, each with their own unique trick to help their team claim victory. The neighbor is not without their own tricks though. Each one of the 2 neighbor variants has a different bag of tricks. The scary neighbor can ignore damage, deal extra damage, and disguise themselves as the nearest kid while the clown can take the form of nearby objects and stun kids with smoke bombs making them easier to capture. The overall game plan is different depending on which side of the coin you're on. As a kid, you must be careful who you trust as the neighbor could be lurking around any corner, but you should keep a friend close as you don't want to be caught by yourself when the neighbor reveals themself to the players.
The graphics are a bit cartoony, but it fits the overall aesthetic of the game. Sound design is very nicely done and definitely adds to the suspense of wondering exactly where that pesky neighbor is hiding. This overall style means the game can run flawlessly on older systems. I normally need to run most games through my cloud PC setup, however, this game ran flawlessly on my 4th gen i7 with a GT1030.
Each round can be either very fun or an exercise in frustration depending on who you get matched with. Communication is key, but many who play in random party games don't use microphones, making it difficult to collaborate. You'll need to get creative in these instances as the strengths of each class work well together and you'll want to be in a group for the protection of yourself and your team. I personally feel this is a game best played with friends in a private lobby, which is thankfully supported. Either way, you choose to play you'll need both strategy and a bit of luck to make it through without getting caught. Having a good team is a must and communication is the key to victory.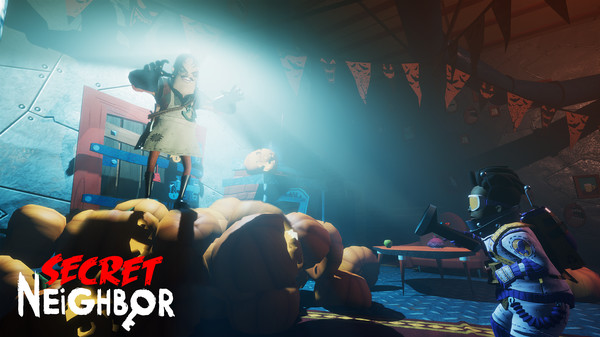 For those who enjoy customization, each class can be customized with a decent number of options, and there are even some nice customizations for the two "neighbor" variants. These can be changed before joining any game, and you'll be unlocking more as you play. I was a bit surprised by just how many options there are, though there are no sliders for fine-tuning. This is not an issue at all as each combination fits well with the whole style of the game. There is an in-game shop where you can buy new customization options with coins earned in-game, or grab something from the featured section for real cash. You can't buy coins and the featured items are all complete sets that cost 3-5 dollars depending on which set you buy. I love the fact that these are cosmetic only and have no impact on gameplay on top of needing to be earned for the most part. The selection available for coins updates daily though, so if you see something you like and have the coins for it, grab it while you can because it's gone tomorrow.
The options menu gives you everything you would expect and even a few surprises. In the controls section, you can change the intensity of the head bob effect, which is nice for those with motion sickness or those who just don't like such effects. The controls are also fully remappable, which is perfect from an accessibility standpoint. The game supports all the standard resolutions and refresh rates, though I can't test for anything above 1080p 60 fps.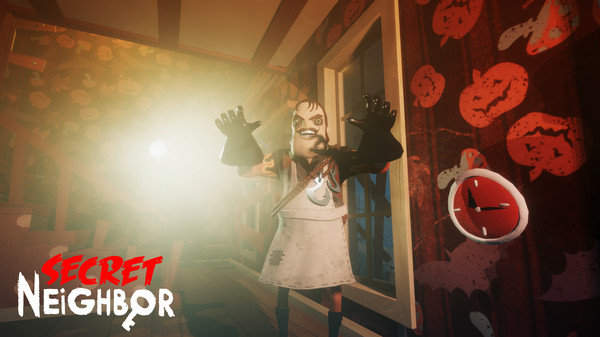 The game can be a lot of fun when played with friends as well as randoms if you get the right group, or it can be a nightmare with no one communicating and everyone getting captured by the neighbor. If you're playing the neighbor, you'll definitely want to hope for that team that just can't communicate well enough to avoid your attempts to capture them all. It's a fun experience, but I think I'll stick to playing with friends if I boot the game up in the future.
Pros:
Runs on low-end hardware
Fun social experience
Decent customization options
Cons:
Random games can be frustrating
24-hour coin shop cycles
High coin prices in the shop
GlitchedVision gives Secret Neighbor a Drastik Measure of 8.0 out of 10.0 (80).
This is an awesome game and should not be missed by those who enjoy a bit of survival horror in their multiplayer gaming. The fact that it's more family-friendly than others in the genre means the whole family can play together. The best part is, if you have an Xbox One and Game Pass, you can play for free.