Genre: Farming Simulation RPG
Developer: Marvelous Inc.
Publisher: XSEED Games,  Marvelous Inc.
Release Date: July 14th, 2020
Edited by AlexKnight2005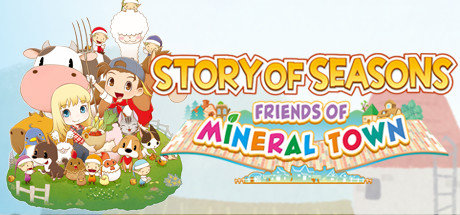 Story of Seasons: Friends of Mineral Town is the remaster of the Harvest Moon: Friends of Mineral Town from the Game Boy Advance from back in 2003. If these look very familiar in terms of layout or characters that was a remake of the Harvest Moon: Back to Nature on the Playstation back in 1999 and the same characters were used in Harvest Moon 64. The long-running Harvest Moon series has been retitled Story of Seasons for a while now. Back in the day and still a bit now the series has been one constant farming game series that does a nice balance of casual fun with no violence or combat. The spin-off series Rune Factory has come from both these companies and recently the release of Rune Factory 4: Special was a nice release of one of the better ones of the series and it's good to see they are doing the same with Friends of Mineral Town. Fans of the series will recognize this one nearly instantly as its one of the more popular ones. Not only was the game simple and laid back but at the time day and night cycles, time passing, and changes in the seasons were newer mechanics in many games around the time of its release. Many will be excited to see a childhood classic redone after so long, but some will still enjoy a more simple farming game with very little pressure on the player.
Farming games of late have some nice choices in the recent years, with more indie titles like Stardew Valley and more realistic ones like Farming Simulator series there enough to show a want of these sorts of games and even Stardew Valley's creator has talked of his love of the Harvest Moon series. The series is more laid back and simpler than Stardew Valley in a good way as anyone of any age can enjoy it without the need or worry of any complexity or combat. Though The Harvest Moon series that now is Story of Seasons has had ups and downs through the years I was happy to return to a classic title that was redone. In Friends of Mineral Town, you can pick from being a boy or girl as you inherit your grandfather's farm as you move into your new home and town. In Mineral Town you will meet different characters that live and work in the small town. The village will have festivals and some events in each season to enjoy as you befriend and learn of the others in town. Money is made from working your farm that is used for buying more seeds, upgrades, gifts, and more. Each villager has their own weekly schedule they follow and for the player to find out. Exploring different parts at different times can trigger events like cutscenes that give more insight into the small town. It's mostly a happy game with no big issues. Playing as male or female brings different marriage options from the bachelors and bachelorettes. Befriending them can lead to marriage and have a family later on. The slice of life of it all is very relaxing and not demanding as you can do almost anything on your farm to get money effectively.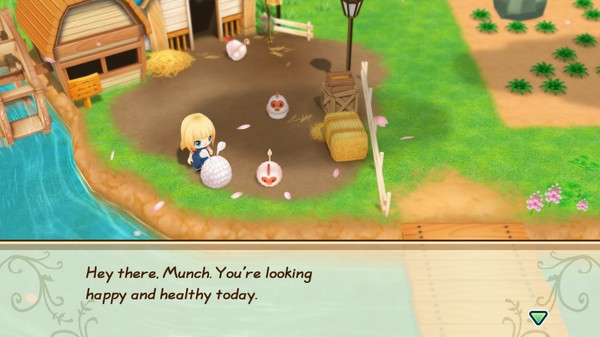 The gameplay is very straightforward and simple as you only need to worry about your stamina as it is consumed on using your tools. At first, you will not be able to do too much on your messy field as you won't have the seeds or the tools to handle a large field each day. You must water and when you get them, brush and feed the animals each day. Tools can be upgraded as you use them long enough and collect the right material. You then can talk to the blacksmith in town to do the needed upgrades. Collecting the materials can be interesting as it involves using your hoe and hammer in the mines, breaking the rocks for the ore and the hoe to uncover the ladder leading down lower. Time stands still whenever indoors but stamina and food to recover stamina as you go deeper is the big challenge as you get more rare ore for a needed upgrade. Besides the upgrade system, the rest of the game is very chill as you just worry about watering crops and feeding the animals as you collect crops and products from the animals then talking and giving gifts to members of the town. The cuteness of the animals and villagers fits perfectly as you can pick how much you want to do be it crops or animals or both. There are thirty days to each season and four seasons in the year. The days go by so fast it can feel like a rush to get all you want to be done on the farm and in town by the time things may close or the day gets late. Knowing what you can handle each day with your current tools will greatly help you not have the game feel like a grind. The only other flaw in gameplay can be seen as too simple but it's still a nice casual game.
Most of the jarring flaws of this game are from the technical side. The game plays incredibly smooth and bug-free but these issues seem awkward and annoying to anyone starting out. On starting the game the entire game boots up in Korean, even the config you can launch. To make matters worse, the settings for the languages are also in Korean. I'm sure this will be fixed in a patch. I had to look upon the forums and Youtube to even get my game to the options and the English language. It was very annoying and a horrid first impression of the game. Other issues seem to be port related as the screen wouldn't size correctly to my resolution at first. It also seemed to have motion blur like focus that I gladly disabled to make the game look 100% better. A controller feels more comfortable than the keyboard for the controls feels as if wasn't made for the keyboard. The controls and feel are just like it did in the original so to those not used to a slight pause between actions may find it more slow-paced.
Story of Seasons: Friends of Mineral Town is a fun nice nostalgic trip for myself and I'm sure for many others but newer players may find it lacking in other games or titles they have played that is more current than in this one. Music and visuals fit nicely and just feel more cleaned up, the cuteness really shines more than the original. I do wish more was added when to a zoom-out function or rotating the camera but its mostly a 3-D Remaster. There isn't much to character customization outside some outfits and some DLC outfits you can buy but for the price of the game, I would expect those just to be all be added to the game for free. I do enjoy the Harvest Moon, Story of Seasons, and the Rune Factory series a lot but I would feel fans of those games will only get a nostalgia joy than anything new being added. I would still recommend those that are a fan but maybe not those wanting to get the games a try. This is a better one for younger audiences to play or even start out on as everything is more straightforward and simplified compared to later additions to the series. I do love the upgrade it was given but I do wish more was added to this remake even if it was just more features or crops current with the later games of the series.
Pros:
Classic & Popular Farm Game
Casual and Relaxing
Great for All Ages
Cons:
Some Technical Issues
Some May Find It Too Simple for the Price
FoxieEXE gives Story of Seasons: Friends of Mineral Town a Drastik Measure of 7.3 (73)