We are the news you need.
Latest posts by TDM News Room (see all)
This is a Press Release by, Assemble Entertainment and  Kite Games
The war between pigs and rabbits has been raging in S.W.I.N.E. HD Remaster since its release on Steam and GOG in May. Now, the National Pig Army has released a propaganda video to draw the undecided to their side! Pigs to victory! Down with the rabbits! Destroy all warrens!
Watch the all-new trailer here:
[YouTube] https://uberstrategist.link/SWINEHD-PigArmy-YT
[Download] https://uberstrategist.link/SWINEHD-PigArmy-DL
To coincide with the brand-new trailer, publisher Assemble Entertainment and developer Kite Games have announced that S.W.I.N.E. HD Remaster is on sale for 10% off on GOG for a limited time!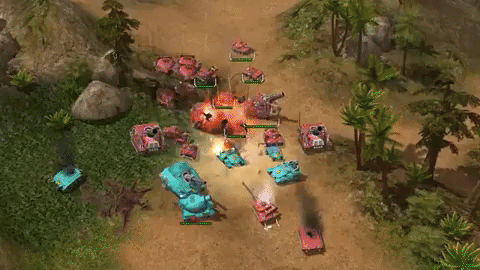 S.W.I.N.E. HD Remaster features numerous improvements and visual enhancements over the original game, such as an integrated language selection, a polished UI, and improved unit ordering for smoother gameplay. S.W.I.N.E. HD Remaster features the original 2001 S.W.I.N.E. soundtrack, an artbook with previously unreleased concept art, and a developer documentary detailing the process behind this recreation of the beloved classic. Developer Kite Games have worked with fans to extensively modernize the game to bring big, beautiful bunny-blasting, pig-punching battles to PC. For more information, visit https://swinethegame.com.
A press kit with screenshots and logos is available here: https://uberstrategist.link/swine_HD_presskit.
We would appreciate it if you shared this news and the new trailer with your audience. Social media shoutouts including @AssembleTeam, @kite_games, and #SWINEHDRemaster are all much appreciated!