Genre: Action, Casual, Indie
Developer: Ghost Town Games Ltd., Team17 Digital Ltd
Publisher: Team17 Digital Ltd
Release Date: Aug 8, 2018
Edited by KnightAvenger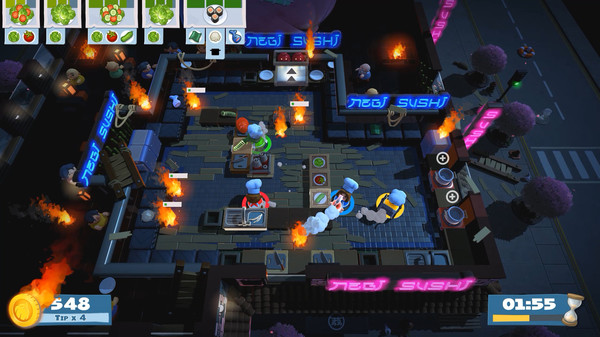 Welcome to the world of Overcooked! 2, where you're kind of grateful that Gordon Ramsay is not in the game! You guys know the saying-if it's too hot in the kitchen, get out. In a game of moving platforms, spontaneous fire and levels that confine you to certain stations, Overcooked! 2 is a true test of communication. Not to mention it seems to get slightly easier the more people you have. The tasks may be easier with more cooks, but the more communication you have becomes key. Be careful, though; there can be too many cooks in the kitchen. What's good about this game is if you invite friends over and you have USB controllers, you can actually all link up to this game, but if you don't have an extra controller, you can always split the keyboard where you and your friend can sit really close to each other and play the game. We tried this method and it works although it does get a little cramped, which may not be ideal. However, if you have a controller handy, one person can use the keyboard while the other person can use the controller. We also found out that if you're playing two people and both of you want to use a controller, just spawn a third person and move them to the side, because no matter what you do, player one has to use the keyboard.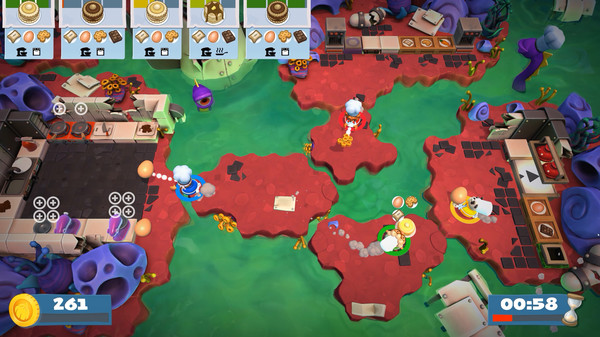 The graphics are cute but non-defined. With bright colors and soft lines, it's very appealing to the eye. Not to mention the cartoony style is very enjoyable for all ages. There are different play modes in the game; obviously, you have your story mode or campaign mode, if you will. There is also an online multiplayer, and local co-op. You start off as a human chef, but there are unlockable characters you can get through the game play. Some of these unlockable characters include mice, a cat, even a panda. As you unlock different levels, the difficulty will increase. That being said, it does get a little crowded in the kitchen. In the beginning levels, it teaches you the basics like chopping up lettuce, putting it on a plate, and sending it out to the people. Then, by level five or six, it adds a little bit more chaotic features. Some of these chaotic features are moving platforms, spontaneous fires, washing your dishes, and prepping batter. These are some of the trials and tribulations you're going to have to go through to make it through Overcooked! 2 a.k.a. Hell's Kitchen.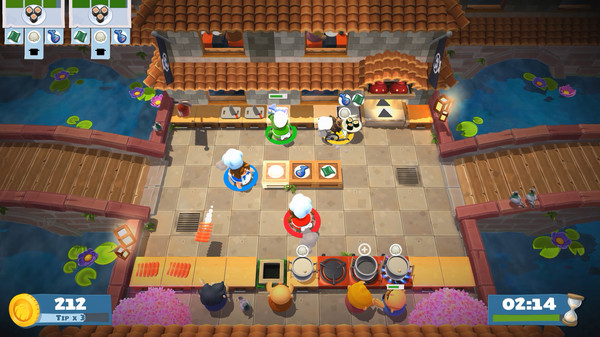 When playing the story mode, you learn that you are now journeying back through the Onion Kingdom, but there is a new threat in Overcooked! 2. This time around, you will have to stave off the hunger of the unbred as the Onion King protects the castle. You and your friends will have to travel around the kingdom over many levels to learn the skills in order to save the world! What they added in the game as well, just to give it a kind of little spin, is letting you drive your own cooking vehicle to the next level. What I like about this is you have full control over the vehicle. In other games, once you beat a level, it automatically moves you forward, but in Overcooked! 2, it's kind of its own little mini-game and that makes this game stand out. There are also multiple ways to travel; you can decide if you want to continue on the main story line or if you would like to play a side level.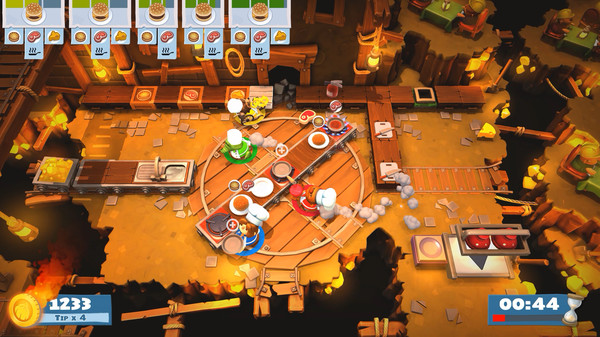 Overcooked! 2 gives you so many options from the play style, to the controls, to how many cooks you can have; this game truly has something for everyone. The music goes nicely, whether you are traveling between levels or in a level itself. As the time goes on, the music itself will speed up, giving you an urgency to complete the level before time runs out. I enjoyed this feature because I didn't need to keep an eye on the clock the whole time; all I had to do was listen to the music. Another wonderful feature that is now implemented is the ability to throw. If you have a level where you are separated from your team and you need to get items from one side to the other, you can easily throw whatever you need. This game forces you to work together, you cannot complete the level without your team, you may need an ingredient or dishes to plate on, all of which you need your team for.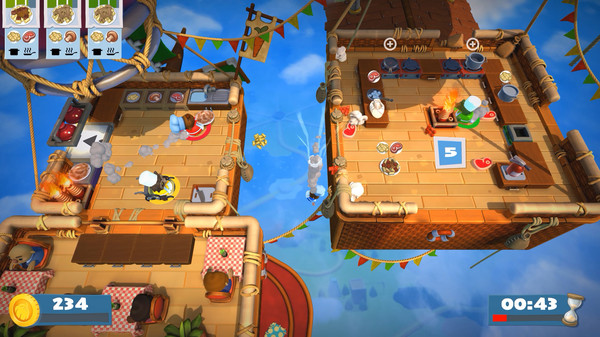 In conclusion, Overcooked! 2 is a fast-paced co-op game that will test your communication to the max. You can find Overcooked! 2 on Steam for a reasonable $24.99 (USD) or Overcooked! 1 & 2 bundled together for $41.98 (USD). Either way you decide to go, you will be in for hours of fun and maybe some yelling. This game is sure to test your nerves and maybe the strength of your friendships. Good luck and may your team save the Onion Kingdom.
Pros:
Nice Graphics
Good Music
Multiplayer
Challenging Levels
Cons:
Easily Frustrating
Must Communicate
The Wolfpack gives Overcooked! 2 a Drastik Measure of 7.0 out of 10 (70)