Genre: Adventure
Developer: CrazyBunch
Publisher: Assemble Entertainment
Franchise: Leisure Suit Larry
Release Date: Nov 8, 2018
Edited by KnightAvenger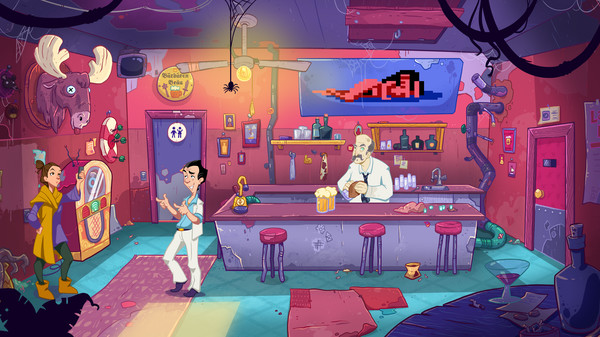 Wouldn't it be weird if, all of a sudden, you were in the 80's and then you woke up smack dab in the middle of the 21st century? Not knowing what the future holds or why things are the way they are. People are using Unters instead of taxis, and glowing boxes also known as Piphones. They use Instcrap as their main source of reviewing their life or what's going on, and Timber is their main way to match someone to go on dates?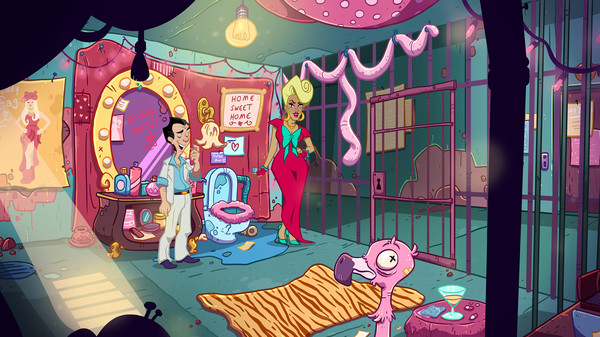 Well, my friend, if you answered yes to any of these questions, then you know exactly what it's like to be Larry. That's right; baby Leisure Suit Larry is back, and this time, he's on an adventure of his own! If you don't know who he is, he's a raunchy know-it-all pervert who wants to get with anything that has a heartbeat! Larry is back in the newest installment called Wet Dreams Don't Dry. I was fortunate enough to finish the game in its entirety, 10 hours and 30 minutes by the way. The storyline, the sexual content, the play style being a point-and-click, and the crude jokes are exactly what I remember growing up and playing any Leisure Suit Larry type game!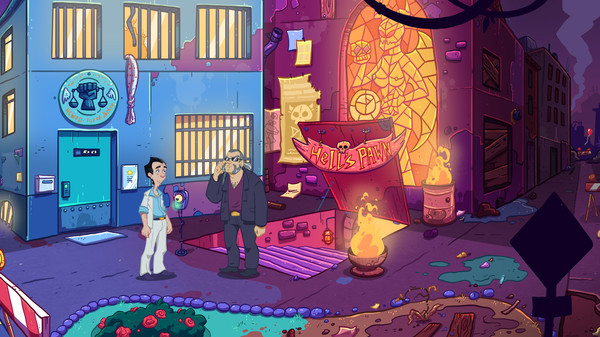 Being able to play this game in its entirety and having my wife be able to play it by my side, who had never played any of the series before, was definitely a lot of fun. Knowing exactly what I was going to get into playing this game, I was pretty much set up for all the mature content and immature jokes. My wife, on the other hand, was not! When she heard the first raunchy joke, the look on her face was priceless and then, from there, she was hooked.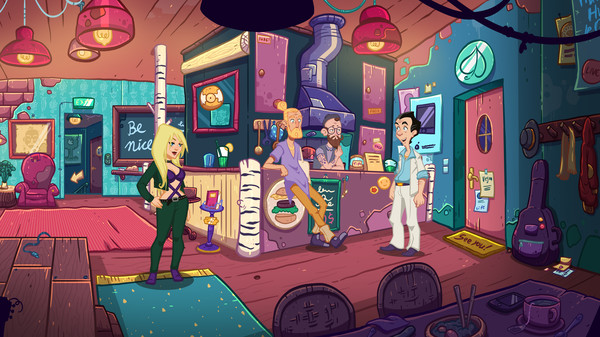 Let's talk about the story a little bit. Like I mentioned before, waking up in the middle of nowhere and in another century, not knowing anyone or what anything is, I'm sure it's scary! Not for Larry in the slightest, and as soon as he walks into Lefty's bar, you see a female drinking. Again, not even five minutes into this game, boom the crude sense of humor and perverted jokes. Exactly what you would expect from a Leisure Suit Larry game. Controls, on the other hand, were a little confusing, but once you got the hang of it, it was pretty much a point-and-click. I do got to say the whole storyline left you wanting more. Every person you spoke to, every thing you had to do to advance in this game, it kept you wanting more. It, honestly, kept you on the edge of your seat the whole time. The ending was less than climatic or, in this case, orgasmically lacking. Still, a great story overall, but it was cut short by the ending.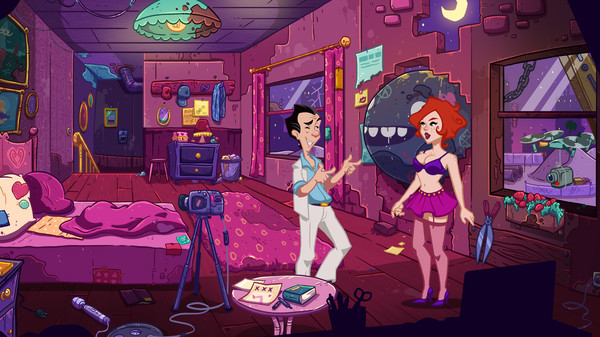 Down to the graphics, they were actually amazing; everything went well with each other. The colors they picked out and the way the lighting works actually tied everything together. It is almost comic book style. The way they put together this game with the graphics and colors, the way it made it feel, it was definitely a typical Leisure Suit Larry style game, which is amazing. There was never a dull moment walking through the city, the city of Lost Wages. I can honestly say if you blinked or you did not look through an area fully, you are definitely missing something. If I was ever to go back to this game, I would make sure I would look everything over 100%!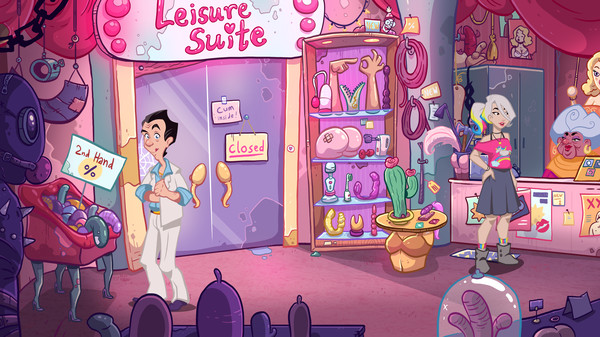 There were definitely times when the game was frustrating if you didn't have all of the pieces you needed or you had to go back and do the same scene again; it could become monotonous. There were quite a few locations you had to go to multiple times in order to get all of the items you needed to move forward in the story. There were items you had to make combinations; some of them were obvious while others not so much. There were times when you would combine something and you had to find out where you needed to use the item in order to progress. In each location, you had to mouse over every possible area of the screen in order to make sure that you picked up everything that you needed. Much later in the game, we found out that there was an easier way to see what was clickable in the map, if only we had known sooner. Every thing that you can click on in this game is useful at one point or another. You may have to go back to an area multiple times before that item can be used, but it will be used eventually.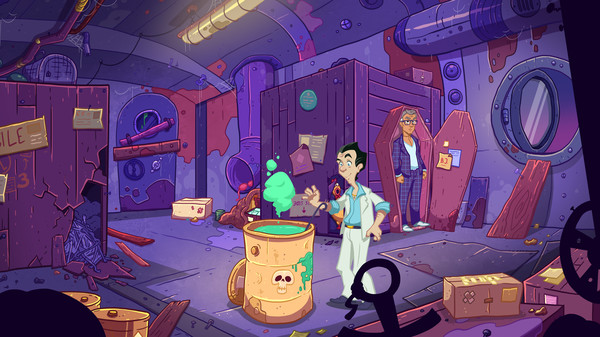 This game is full of many stereotypes, from the man out of his time, to the Millennials all about their phones, and how modern society coexists with one another. Leisure Suit Larry – Wet Dreams Don't Dry is definitely one of the games I would suggest to check out, down to its easy playability, decent storyline, the crude perverted sense of humor that, deep down, we all have, that take things to the next level, especially things out of context. All of which make this a hilarious game that anyone should really, at least, check out. At the price point of $29.99 (USD), Leisure Suit Larry – Wet Dreams Don't Dry is at a reasonable price point for a new game on Steam. If you want to take a look at the other games in the series, they are available on Steam for a reduced price. They range from $1.99 to $2.99, so if you think $30 is too much, definitely check out the other games in the series as well.
Pros:
Good (comic book style) graphics
Hilarious (if you have a crude sense of humor)
Decent story
Cons:
Not always clear what to do next
Can be frustrating at times
Ending was anti-orgasmic
The Wolfpack gives Leisure Suit Larry – Wet Dreams Don't Dry a Drastik Measure of 6.5 out of 10 (65)