Latest posts by DarkLunarDude
(see all)
Genre: Casual
Developer: PALETTE
Publisher: Sekai Project
Release Date: Oct 3, 2017
Edited by KnightAvenger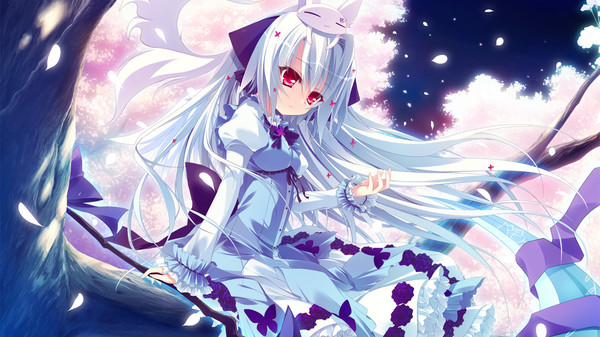 When it comes to the idea of love and its involvement with visual novels, it does not rank as high as other story elements for me personally, and yet, it has a huge impact on most stories. Thus, when love is made the forefront of a story's basis, I figured it was worth a try to see how love can change the impact it has on the reader: Saku Saku: Love Blooms with the Cherry Blossoms. Saku Saku: Love Blooms with the Cherry Blossoms is a casual, slice-of-life visual novel developed by PALETTE, later released by Sekai Project that, while telling a story of love and its development between people, tends to miss on some key points with it.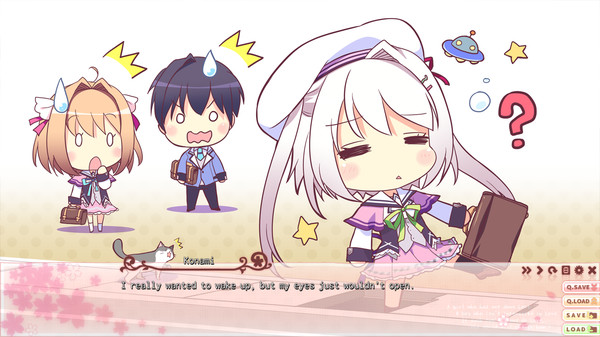 Watching the cherry blossoms fall, Saku Saku: Love Blooms with the Cherry Blossoms is a story where it excels in storytelling and development of characters but loses itself in a few other story elements. We, the reader, take the shoes of Yuma Asaba, a second year at a school known as Mihaya Academy in his day-to-day life, alongside his friends and his sister Konami. Things get all stirred up in Yuma's life, though, when, at the start of a new school term, a mysterious poster starts to appear on the boards of the school, offering 21,000 yen as a reward to the person who can make him love someone. Not sure whether to be annoyed or concerned about this, he tries to let it go and make the best of the new school term, both as a student and as a nurse's aid after school, where he listens to girls' love problems and advises them on what they should do. Added into the mix of this randomness is Tina, a love fairy who, for some reason, is carrying around a large scythe and whose mission is to get Yuma to accept love and find it but for an unknown reason. I will end my synopsis here, as most of the story to follow is straightforward with only a few major choices in between, but this does make getting the five routes the novel offers worth it as a completionist, with the time per run being in between two to five hours, maybe a few more if you're a slower reader.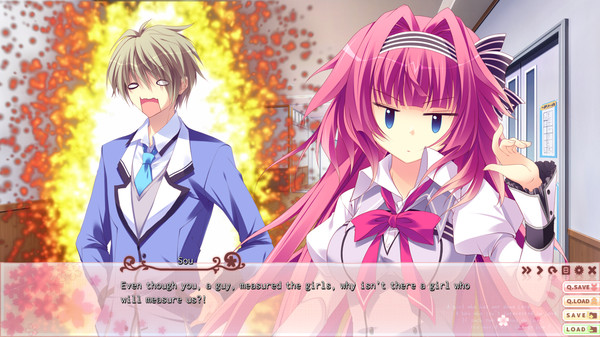 Saku Saku: Love Blooms with the Cherry Blossoms, as a story, was well told and had some really nicely presented character development to boot, but this also left a few story elements to go a little wild. The first element was story drag, more so overall pacing of the story. Novels like Saku Saku are what I like to refer to as slow burner novels, where the story can take a while to reach a key story point but allows for some stronger development of the characters and plot as an overall whole. This leaves a lot of places in the story where the novel can just slow down, not to a crawl but just enough to where you can start to lose interest in the story. Following up the first element is Tina as a character. Honestly, I felt Tina was one of those characters that was interesting and very influential as a character, but she fell into the randomness trap way too often. When she pops up, it tends to be at isolated times, which gives her this mysterious point of view and noting her focus on just Yuma practically, but this backfires on occasion, as she becomes that annoying guide-like character you do not want around.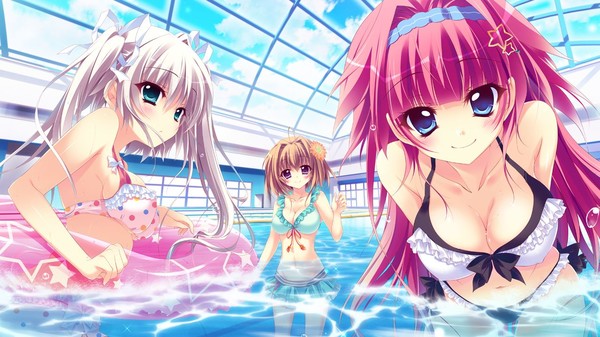 Like cherry blossoms falling to the earth, Saku Saku: Love Blooms with the Cherry Blossoms, in terms of presentation, played like an animated movie, showing well-designed backgrounds and characters with a soundtrack, that, while lacking in some variation, did keep the scenes fresh. Visually, Saku Saku: Love Blooms with the Cherry Blossoms' animated art style focus on 2-D over 3-D worked well, as the characters were the focal point and always active with a more relaxed but detailed background. Backgrounds here kept a fair bit of detail, something I appreciated, as some of the subtleties taken like the posters on the boards, the falling petals from trees and other such elements just flowed well with the scenes they were in. The star of the show was the characters, though, something I was excited to see, as the characters took the foreground and never left it, animating with multiple effects behind them to show their emotions with some of the best facial expressions to match. There are a few 3-D type scenes where you see more of the characters, but they were so few and far between that they didn't leave as big of an impact as I would have liked.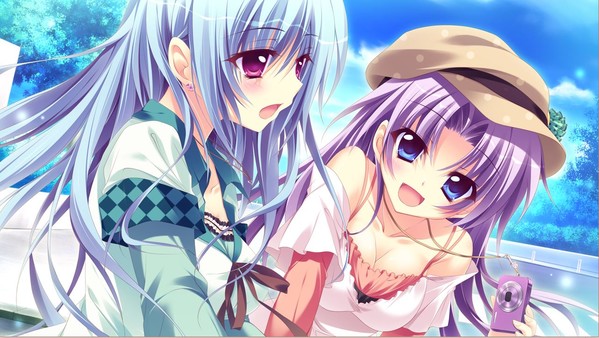 With a heavily classical feel, the soundtrack created for Saku Saku: Love Blooms with the Cherry Blossoms was done scene by scene, leaving a solid impression but ultimately lacking in variety. Musically, I found the soundtrack to be a welcoming setup for the world created in Saku Saku: Love Blooms with the Cherry Blossoms, the classic piano, wind and horn-based tones adding to the scenes as a whole. My biggest issue was the lack of variety or number of songs on the soundtrack. As I would sit through a scene, the song would loop, making me feel like I was reading too slowly or just listening to a shorter length to each soundtrack. Sound effects were present here, just not as heard, but this was not a bad call, as I felt the times that they were used, they fit very well into the theme or set of actions happening.
Overall, I found Saku Saku: Love Blooms with the Cherry Blossoms to be a heartwarming experience that, while I felt it had told the story well, was one of the better novels for character development and had some very well animated characters, it did lack some key things for me. Nevertheless, the well-told story and creative writing, multiple routes, fairly long reading times, solid 2-D visuals, very well animated and voiced characters, and classical themed soundtrack made a novel I would want to go back to again.
Pros:
A well-told story with creative writing
Five routes to explore
Reading times ranging from two to five hours
Solid use of the 2-D visual style
Very well animated and voiced characters
The classical themed soundtrack
Cons:
Slower paced and sometimes drawn out story
The lack of variety of songs in soundtrack
DarkLunarDude gives Saku Saku: Love Blooms with the Cherry Blossoms a Drastik Measure 8.7 out of 10.0 (87)
For the price of $19.99 (USD) on Steam, I can highly recommend Saku Saku: Love Blooms With The Cherry Blossoms to slice-of-life readers as well as to those seeking a story with good character development, as this novel does that well, all in the name of love.