Latest posts by TheUndeadLords
(see all)
Genre: Action, Indie
Developer: Undercoders
Publisher: Rising Star Games
Release Date: Sep 14, 2016
Edited by KnightAvenger
Conga Master is an action game in which you design your own dance party. You enter the dance floor and roam around, trying to attract people into creating a conga line! The more people you get, the more people you attract! After you convince enough people to dance with you, it's time to invade another party! The fun keeps on going until your momentum drops to zero. Oh, did I mention that you have to run from extraterrestrials? Yeah, that is a thing in this game…I'll be quite honest and admit that I didn't think much of this game when I was given a review copy. I did not have much hope for it, either. Do I tend to judge too harshly by the snippets I see on Steam? I probably do, as this game turned out to be pretty fun but also a bit more complicated than it looks. Let's delve into the good and bad sides of Conga Master, shall we?
When I started playing, although a bit confusedly like with any new game, I found myself drawn by the music. It is very upbeat and rousing the more you get into the game. There are a lot of different characters with different stats that have an impact on the game. The animation is really cute and I found myself staring at the little sprites. They're all wiggling to the beat of the music and clapping their hands in rhythm! How awesome is that?! There are also items you have to avoid, like banana peels and animals (mostly the pigs). You have to avoid bumping into the waiters and janitors, too, as the first will give you a debuff and the other will make you slip like a banana peel. Quite the intriguing play style, indeed!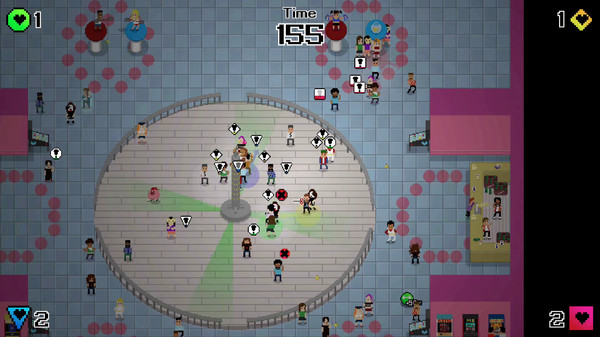 Now, I'll talk about the bad points of the game. I launched it and it was in French! Although I am a French speaker myself, that could cause some problems for English-only speakers or those who don't have any knowledge of the French language. Another aspect to fix is that there's no way to turn down the sound in the game! I launched it and already the sound blasted my eardrums. I had to bring it down with my PC's volume mixer, which isn't great at all. Also, I don't really understand why, in between stages, we have to run away from extraterrestrials that steal the people in the conga line. I mean, it adds something, sure, but at least fix the control that makes it so that you can sprint forward!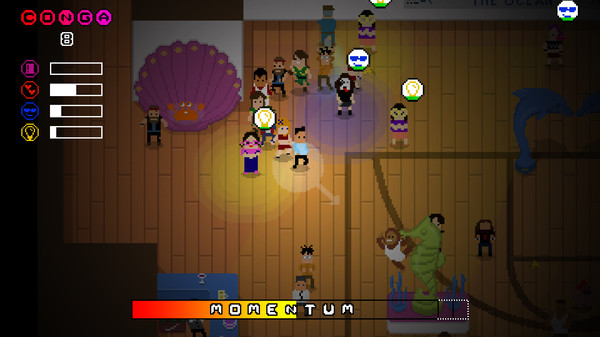 Overall, the game is decent. I would probably play it again, but I'm highly unsure, as the controls in between stages kind of screw you over for the next stage. It's a silly game that makes time pass a little faster; I'll give it that. With the reasonable price of $9.99 (USD) on Steam, you should totally grab it and give it a chance! I did, and I kind of enjoyed it, too.
Pros:
Music is very upbeat and rousing
Lots of characters with different stats
Cute sprite animations
Items and characters to avoid in the game provide a challenge
Cons:
Game launches only in French
No way to turn down the sound in the game
No explanation given for running away from extraterrestrials
Control for sprinting forward should be fixed
TheUndeadLords gives Conga Master a Drastik Measure 7.5 out of 10! (75)