Genre: Racing, Simulation, Sports
Developer: Codemasters, Feral Interactive (Mac)
Publisher: Codemasters, Feral Interactive (Mac)
Release Date: Aug 25, 2017
Edited by KnightAvenger
Ready to go vroom vroom? How about vrooms that make your sound go boom boom? Are you ready for those booms to make you go zip zoom zoom? No, I'm not talking about some old, old onto your racing hats; Codemasters has got you covered with F1 2017…if you know how to play the game, anyway! Realistic as can be, F1 2017 is a cut above the typical racing games you'll see on Steam. Many thanks to Codemasters for the review key!
You start the game as a new recruit of a racing company. Your job? Race, race, and race some more to get to the top of the F1 leaderboards. You create your character, manage your car, and compete against the computer (or online players) for the top spot. Your company is counting on you to maintain their rep, so failure is not an option in their eyes! Take the wheel and take off in this racing simulation game!
Put down that announcer mic and thugwaffle; the amount of simulation in this game is off the charts. Weather, the way the cars handle, and even the sound effects are well-done. You can feel the excitement in the air as you prep for the race and get on the track. And! If you happen to be good at this type of realistic simulation, free from GTA Gravity, Saints Row Insanity, and model blocks for vehicles, you'll have loads of fun. The graphics are pretty, the UI is tight, and (as I've said) the realism is quite splendid.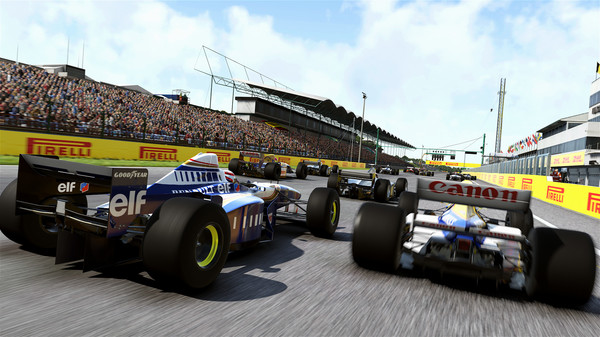 However, after a few minutes, I did not understand the game. Ten hours later, I still didn't really get a feel for the game. Twenty hours after that, I still had not won a single race. For most of them, I ragequit because controlling the car felt clunky to me, the guy on a handheld controller instead of a race wheel controller complete with pedals and a gear shifter. While that's an extreme (as the game is plenty playable with just a 360 controller!), it felt like that was what I needed to overcome aspects of the game.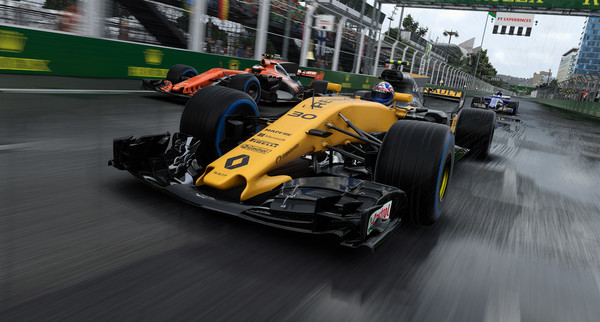 The simulation was just too real for me, a complete newb to the F1 games and F1 as a whole. In all honesty, the game doesn't feel too new player friendly, but it could also be that I play car games like The Crew and GTA V (you can race in it!) simply because you don't have to be good at driving to enjoy them. Then again, I'm also generally bad at any game that requires more than picking a choice. Haha. Regardless, the game was still fun to play.
Overall, F1 2017 can be a world of fun. The simulation is on par to the real thing. For the price of $59.99 (USD) on Steam, I recommend this title to those who like a dash of realism in their racing. For peeps like me? Stay away. This isn't your game. No matter how pretty the cars are, stay away. This isn't your game. I don't care if they sound great, the look superb, and the game catches your eye. If you are anything like me, you will flounder and fail and fall fantastically down the rabbit-hole like you're a fantasy character named Alice. However, if you're really looking for that real racing feeling, get F1 2017. It's a hell of a ride.
Pros:
Zoom Zoom Zoom
Good graphics
Smooth performance
Cons:
Not really newbie friendly
Mileage may vary (Pros or Cons):
Incredibly high simulation
Lolinia gives F1 2017 a Drastik Measure of 7.0 out of 10.0 (70).
Co-Owner
at
The Drastik Measure
Lolinia has been actively watching anime since 2006 and recently became more of a gamer in 2014. He adores Visual Novels and anime-related games and loves to talk about them. He's finishing up a degree in Mass Communications.