Just a regular person that likes vampires and MMORPGs a lot. Writing and reading are a passion too.
Latest posts by TheUndeadLords (see all)
Genre: Action, Adventure, Indie
Developer: AT The Gate Team
Publisher: AT The Gate Team
Release Date: Jan 30, 2017
Edited by KnightAvenger

In a futuristic world, you are helping to lead a rebellion against the White Crow Empire. Once a peacekeeping organization, its tyranny now knows no bounds as the marshal carves a bloody path through the main head of the rebellion, causing a daughter to lose her father. In honor of his memory, she needs your help to hunt down the commanders of the Empire to sever its connections and supports. The fight won't be easy, but someone has to do it. For the greater good, in Crimson Trigger!
First off, I must say that this game did not look like anything I could enjoy. Luckily, I was wrong and was pleased with the mix of 2-D and 3-D as I went along the game. The nice breaking of action replaced by visual novel-like narrating scenes was really a nice touch to the game. The story, which drives you into the action (albeit a couple grammar mistakes that weren't that bad), makes you feel for the characters as they go through terrible trials. To carve your way through the game with your trusty pistols and killing everything standing in your way sure is fun, but the enemy is witty and won't hesitate to use any kind of means to put you down! Fun for hours ahead, especially when you're able to steal abilities from bosses, but I will leave this for you to find out what I mean by this.
Although I admit that this game can be fun, there are some sides to it that may make you want to put it down and leave it to rest. A good example of that would be the controls it starts you with if you like to play with your keyboard and mouse. It's, possibly, the weirdest I've ever experienced in any video game, and so far I've played a lot, if that says anything! Besides the keyboard mechanics, I must admit the battles the game makes you go through on top of the boss fights are also odd, even more so when you have to parkour your way through a level and miscalculate a jump which sends you into a pit full of spikes. Yeah, that cuts into the pleasure of the game quite a bit, especially when you try to defeat your first boss and, come to find out, they're impossibly hard to beat! What a bother…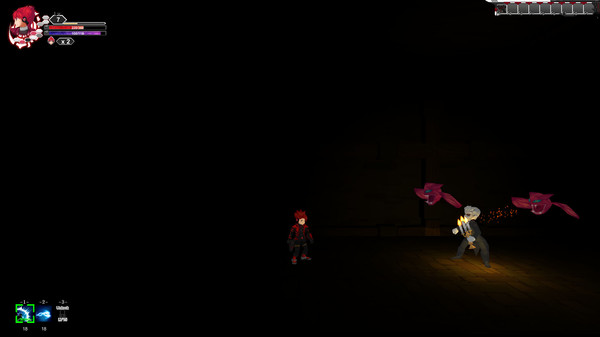 With all of this said, the game can be fun and the story is interesting although it has mechanics that require some tweaking. For $11.99 (USD) on Steam, I say it's not too bad of a game even though it could be better.
Pros:
Nice mix among 3-D animations, game play, 2-D images, and conversations
Good story
Cons:
Wonky mouse and keyboard mechanics
Odd boss fights and level layout
TheUndeadLords gives Crimson Trigger a Drastik Measure 6 out of 10! (60)