Genre: Visual Novel Comedy Fantasy Boobs 18+
Developer: softhouse-seal
Publisher: MangaGamer
Release Date: Oct 19, 2012
CONTENT WARNING: This is an adult visual novel and as such there are images that are NSFW in this review. Please do not scroll down past the first paragraph if you are at work or under the age of 18.
 ——————————————————————————–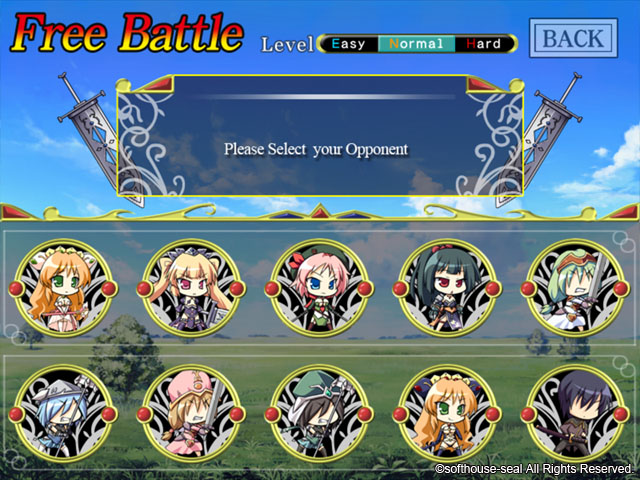 Boob Wars: Big Breasts vs Flat Chests is an adult visual novel game by softhouse-seal. The world of Boob Wars is set in a future in which women across the world transformed into two groups, those with A cups or smaller and those with D cups or larger. This eventually caused a war, and the world ended up split between the two factions, with an unending war between both sides over neutral territory. You play as Eagle, an elite member of a secret organization known as Erorists. The best possible way to describe what an Erorist is, is to call them a high end man-whore in a world where most women only see sex as a way to procreate. Eagle is given a mission to end the war by whatever means necessary.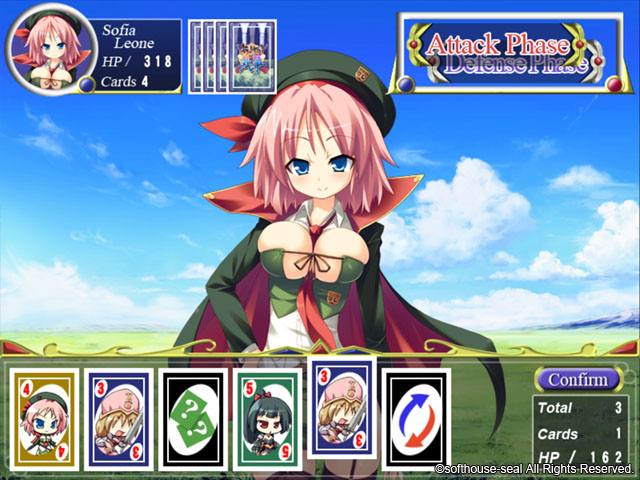 The game starts with you capturing two low ranking individuals from each faction, and then encouraging them both to serve you by fucking them both at the same time until they give into the power of womanly pleasure. They give you intel that gives you options between the four most powerful females in the land, the queens of each nation, and their generals.
How do you do this, you ask? Simple, you beat some girls in a card game and then fuck them into submission. The card game is not used very much at all, and is very simple; you get a hand of cards, the cards range from 1-7, and there are also draw 2 cards or recycle cards that allow you to shuffle cards of your choice back in and redraw. The game has two phases, attack and defense, and you choose up to 3 cards for each, draw and recycle cards don't count. On attack, if you put a higher card total than your opponent you do damage, if not you do no damage, defense is reversed you receive no damage if your total is higher.
The order in which you defeat the women determines the outcome of the game, whether one side is eliminated or if you manage to force a peace between the two sides. Outside of this, however, the game does not give you any control over what happens, there are no dialogue choices nor control in each section other than the brief and infrequent card battles.
Outside of those elements, this is truly just a visual novel with female only voice acting, no decision making of your own, and a good soundtrack. The art of the game is superb, and the storyline is enjoyable for what it is. The options of the game give you a choice between full screen or windowed (windowed size is not adjustable), allows you to adjust battle difficulty and animation, and text speed and skip settings. You also get volume sliders for music, effects, and voice, as well as sliders for each individual character.
The game really feels a lack of involvement on the player's part, but still remains enjoyable for the most part.
Selthor gives Boob Wars: Big Breasts vs Flat Chests a Drastik Measure 5 out of 10 (50).
Pros:
Cons:
Boob Wars: Big Breasts vs Flat Chests is available on MangaGamer for $24.95 USD.