Founder of TDM and Streamer on Twitch since the Justin TV days. Loves RPGS, Believes every game should have coop. Loves LightSamusss.
Epic Manager – PC (P)Review – by Selthor of WeTouchGames
Genre: Early Access Indie Strategy Adventure RPG SIM
Developer: ManaVoid Entertainment Inc.
Publisher: ManaVoid Entertainment Inc.
Release Date: Jul 25, 2016
Epic Manager released for early access on Steam on July 25th, 2016 for the price of $17.99 ($21.58 for the deluxe edition which includes the soundtrack). This is the first release by developer ManaVoid Entertainment Inc. and I have high hopes for the future of this studio. Epic Manager is billed as "a unique crossover between Sports Management, 4X and classic JRPGs" and fits the bill nicely. Basically, you play the role of a manager in a world where groups of heroes doing quests is a strange national sport of types, and companies have formed (kind of like Esport teams Fanatic and Team Liquid) to recruit talent to form teams and send them out to earn their keep completing quests.
The game's settings are very minimalistic as the game is not graphically intensive at all, it contains sliders for both music and sound effects. I didn't mind the sounds of the game, the music has a fairly epic feel to it as if it came from a movie soundtrack more than a game. The introduction to the game is voiced as it lays the groundwork for the world. The writing is witty and actually pays some homage to some of the indie games they've come to love (I won't spoil which).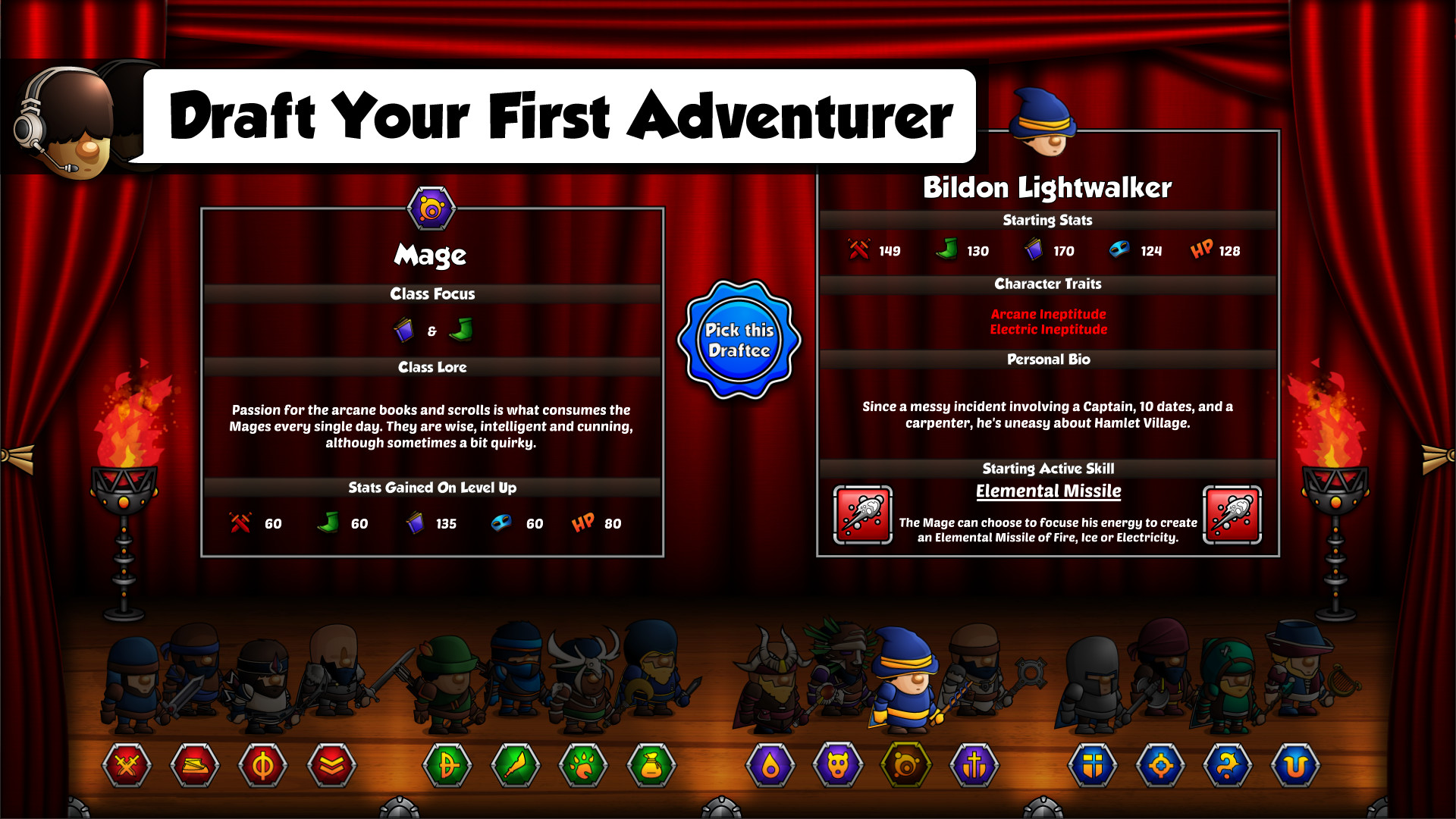 The game starts by you picking a team name and coat of arms Immediately followed by a "draft" in which you have a choice between 16 randomly generated characters, one from each class. Each class has 2 different spells that you can pick from when the character levels up enough to select a second class, but initially, you have to pick from what they are given. Beyond a character's class and spell they also have randomly generated flaws or perks (ranging from increased stat growth to reduced damage against a certain enemy type) The first character you draft come with a free 25 week contract, beyond this you have to have scouts search out prospects and recruit from that pool and manage salaries for your heroes. At the start, you are limited to one party with a max size of 4 characters, as you progress you can unlock extra party members and eventually multiple parties.
The point of all of this is to acquire fame and money, seems straightforward enough right? Well, to complicate things, you are in a 12 team league, and the bottom two teams at the end of each season (3 months) are eliminated (note: if you get eliminated it is game over). If you survive the year you move up into a higher league, where you opponents are more competent and more ruthless. Gaining fame and money is fairly simple, you accept and complete quests navigating your party on a hex-based map. Each turn is a week and on weeks you are not in a location to complete a quest there is a chance for a random event to occur. These events seem to have a roughly 50% chance of occurring, and range from combat to reading a text and deciding on a choice for the situation. The combat is a typical RPG turn based system that still stands the test of time.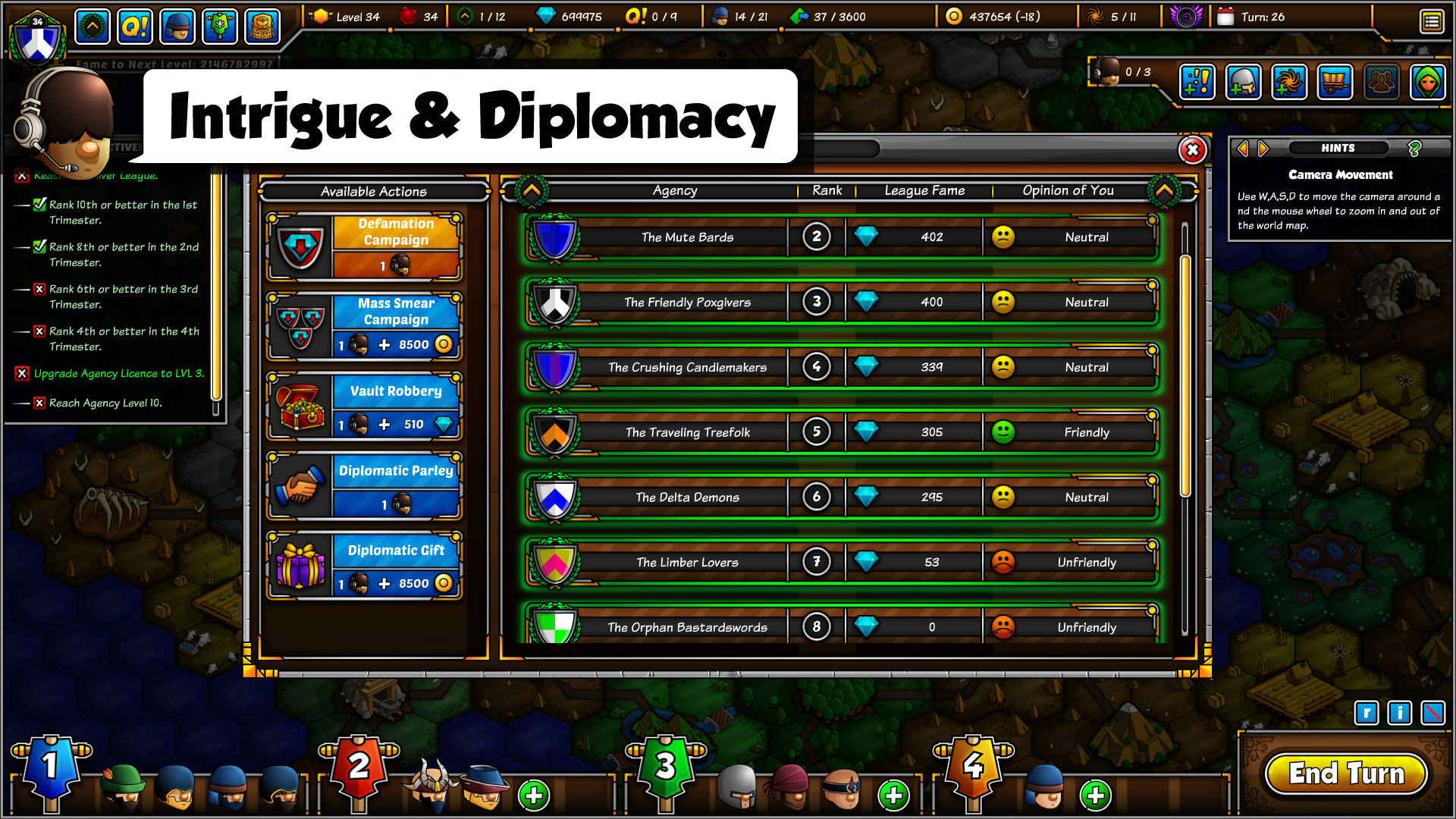 The challenge of the game is juggling the quests, time, and income of your parties, while trying to maintain your rank in the league. After reaching a certain point, you and your opponents will unlock intrigue, which will allow you to steal from other teams or launch defamation campaigns to lower their fame, and they can do the same to you. The randomness of the encounters and everything associated with it really reminded me of Faster Than Light, in a good way. The game is fun, challenging, and is enjoyable to pick up and play for a short time, or for an extended session, and will keep you going back for more after a game over, much like Faster Than Light did.
Selthor gives this little indie gem Epic Manager a 9 out of 10 (90).
Pros:
great writing
addicting
fun
good soundtrack
each game is a new journey
Cons:
Randomness can be frustrating though that is part of the fun
Random events can get repetitive
Reviewer's note: The developers seem quite active in the game's development and have already patched three times since the game's early access launch.